VENUE
The workshop will take place in room f442 in the main building of the university.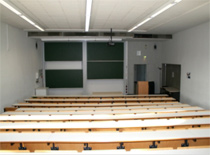 ACCOMODATION
All speakers will be accomodated at the

Hanns-Lilje-Haus
Knochenhauerstr. 33
30169 Hannover

It is located within walking distance from the central train station (Hauptbahnhof) and the city center Kröpke. From the latter the subway lines 4 and 5 in the directions Garbsen and Stöcken, respectively, will take you to the main building of the university. Get off at the station Leibniz Universität right in front of the main entrance. Note that daily tickets are the cheapest option if you intend to do more than one trip a day.
Other participants will have to organize their accomodation by themselves. Here is a list of options that you may want to consider:
Bed'n Budget: Single room starting at €27,50, multi-bedrooms available
Tyros Hotel Hannover: Single room starting at €29, double room €48
City Hotel Hannover: Single room starting at €60
Cityhotel Thüringer Hof: Single room starting at €65, double room €85
SmartCityHotels: Single room starting at €69, double room €79, triple room €89
Gästehaus am Herrenhäuser Garten: Single room €70, double room €95